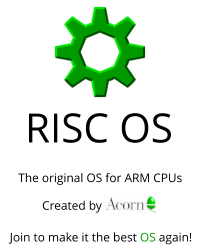 Welcome to our RISC OS Forum !
This developer forum wants to give a platform for programmers that want actively support the RISC OS development.
Add missing drivers for RISC OS (WIFI, Bluetooth, GPU 3D, GPU video, USB 3)
Add more applications
Improve handling and features of current RISC OS open source applications
Add more open source games
Improve RISC OS core functions like filer, filecore, font manager, internationalization
Supportive tasks like translation of RISC OS
For non-developers we suggest you look at the ROOL Forum
www.riscosopen.org/forum
Login

or

Create an Account
Updating Profile
At some point during your stay, you may decide you need to update some information such as your instant messenger information, your password, or your email address. You may change any of this information from your user control panel. To access this control panel, simply click on the link in the upper left hand corner of most any page entitled "User CP". From there, simply choose the appropriate link under the "Your Profile" section and change or update any desired items, then proceed to click the submit button located at the bottom of the page for changes to take effect.