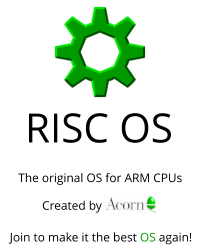 Welcome to our RISC OS Forum !
This developer forum wants to give a platform for programmers that want actively support the RISC OS development.
Add missing drivers for RISC OS (WIFI, Bluetooth, GPU 3D, GPU video, USB 3)
Add more applications
Improve handling and features of current RISC OS open source applications
Add more open source games
Improve RISC OS core functions like filer, filecore, font manager, internationalization
Supportive tasks like translation of RISC OS
For non-developers we suggest you look at the ROOL Forum
www.riscosopen.org/forum
Login

or

Create an Account
RISC OS Developer Forum
You are either not logged in or do not have permission to view this page. This could be because one of the following reasons:
You are not logged in or registered. Please login and retry the desired action. Login | Need to register?
You do not have permission to access this page. Are you trying to access administrative pages or a resource that you shouldn't be? Check in the forum rules that you are allowed to perform this action.
Your account may have been disabled by an administrator, or it may be awaiting account activation.
You have accessed this page directly rather than using appropriate forms or links.