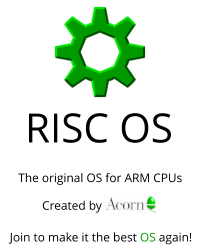 Welcome to our RISC OS Forum !
This developer forum wants to give a platform for programmers that want actively support the RISC OS development.
Add missing drivers for RISC OS (WIFI, Bluetooth, GPU 3D, GPU video, USB 3)
Add more applications
Improve handling and features of current RISC OS open source applications
Add more open source games
Improve RISC OS core functions like filer, filecore, font manager, internationalization
Supportive tasks like translation of RISC OS
For non-developers we suggest you look at the ROOL Forum
www.riscosopen.org/forum
Login

or

Create an Account
Logging In and Out
When you login, you set a cookie on your machine so that you can browse the forums without having to enter in your username and password each time. Logging out clears that cookie to ensure nobody else can browse the forum as you.

To login, simply click the login link at the top right hand corner of the forum. To log out, click the log out link in the same place. In the event you cannot log out, clearing cookies on your machine will take the same effect.